Property (D2) — Syllabus


Fall 2019
Professor Schnably
Office, Office Hours, and Faculty Assistant
Final Grades & Exam Review
The final grades are available through CaneLink. This was the distribution in Property (D2):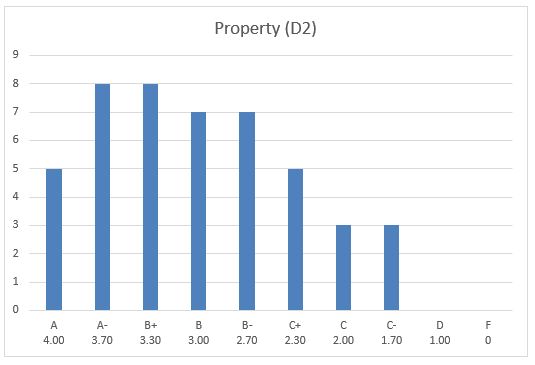 The average grade was 3.011.
As you may know, there is a required distribution of grades in first-year substantive courses (other than Spring semester electives). It is described at p. 12 of the Law School Handbook, which sets out the School's academic policies:
"Students in first-year courses are graded in accordance with the following grade distribution.
"1. The combined total number of 'A,' 'A-' and 'B+' grades awarded in each course shall equal or exceed 20 percent of the number of students graded in that course; and

"2. The combined total number of grades of B or higher awarded in each course shall equal or exceed 45 percent of the number of students graded in that course.

"The sum of 'C-,' 'D,' and 'F' grades in first-year courses shall not be less than 5 percent nor more than 15 percent of the number of students graded in that course, (subject to waiver for a particular course in unusual circumstances by vote of the Faculty or by the Dean prior to the submission of grades).

"It is the responsibility of the Dean to interpret the proper implementation of the First-Year Grade Distribution."
The distribution of final grades in this class complies with this provision. The required distribution did not affect the grades I gave. I would have given the same grades in the absence of the required distribution.

Policy on Grade Changes. As you may know, under the Law School Handbook (p. 13), a faculty member cannot change a final grade in a exam course unless there is a mechanical error (such as an error in addition of points) that would affect the grade:

"A final grade submitted to the Law Registrar's Office cannot be changed by a faculty member, or anyone else, to reflect a re-evaluation of the student's examination answers or other work. If, however, an arithmetical or transmittal error is discovered, the error will be corrected. No change of grade takes effect without the approval of the Dean or Vice Dean. Requests to have such errors corrected must be made by the instructor, and the Dean's or Vice Dean's decision communicated to the Law Registrar's Office before the end of the semester immediately following the semester or summer session in which the error was made.

"There are no grade appeals."

Review of Exam Answers. Under the Law School Handbook, p. 13, students have a right to review their exam answers in case of essay exams. If you want to review them on your own, please email my assistant, Ms. Sue Demmings. (If the email link here doesn't work, you can find her email here.) No appointment is needed simply to review your answers. Ms. Demmings will send you a copy of the exam, model answers, and your answers. Pleae note that the model answers are being put together and may not be immediately available.

Please also note that I don't write comments on answers, so feedback from simply reviewing your answers without meeting with me will come from comparing model answers (when they become available) with your own answers. Keep in mind that good answers, unlike Tolstoy's happy families, are not all alike. Good answers to a given question may vary significantly, especially in the positions taken.

Feedback on Exams. I will be happy to give you feedback on what you might do on future exams to improve your performance. If you want to schedule a meeting, please e-mail Ms. Demmings and let her know, and she will schedule an appointment.
The appointments will begin in February.

Note: if your grade was C or lower and you want to meet with me before February, please email me, and I will schedule an appointment before then. I won't have the model answers until February, however.

I will have certain times set aside for exam review meetings. Ms. Demmings will let you know when your appointment will be. The appointment will not conflict with the Section D schedule (including LCOMM) or any of the electives. If when you receive the email scheduling your appointment you discover you have a specific conflict, please let her know.
Before we meet, you should re-read the exam, your answers, and the answers, and I will re-read your answers before we meet.
If your overall grade performance this semester isn't what you were hoping for, keep in mind that many students in the same situation in past years have improved their GPA significantly in the second semester. The key to doing so is to go over your fall exams with all the professors who gave essay questions, and then take action to address any problems you discover in doing so. Also, if you did generally well but there is one course where you fell short of your expectations, resist the temptation to write it off as one of those mysteries of grading. It's still worth it to go over the exam, because there might be some feature of your approach to writing answers that doesn᾿t matter on some exams but hurts you on others.
Ground Rules: You Must Read These Carefully Before the First Class
Our time in the classroom is essential to learning the material. You'll learn it best if during each session you have a setting that allows you to focus on the materials without distractions. I have set the following ground rules to help provide you with an undistracted setting. Please make sure you are familiar with these rules and any others I mention in class. You can find them here.

Classroom and Meeting Times

Classroom: A110
Tuesday, Thursday, Friday, 11:00 am - 12:20 pm

Dean's Fellow Study Group

Dean's Fellow: Adrian Alonso
The schedule will be announced later, in class and through the Academic Achievement Program page, once that page is updated.

Books & Supplements

Required:

Dukeminier, Krier, et al., Property (9th ed. 2018) (referred to in this Syllabus as "CB")
Supplementary materials, pp. 1-278 (referred to in this Syllabus as "Supp."):

Available online:
Paper copy: You can purchase three-hole punch copies of Parts I & II at the Copy Center (Law Library, Room B207 [map]).

Note on format of the Required Materials: While I think you'll find it best to read the required materials in printed form, you can have them in whichever format you prefer -- printed or digital. It won't matter for exams for this course, because the exams are closed book (see below). For other courses with open book exams, you should be aware that you won't be able to access a digital casebook or a .pdf on your laptop during the exam, because the required laptop exam software (Exam 4) blocks access to the internet and all files on your laptop. For more information, see the Law School's Exam4 Software Information page. Whatever format you use, I do expect that if I call on you in class and ask you about a particular passage in a case we're discussing, or a particular section of a statute, or any other material we're covering, you'll be able to get to that material quickly and take a look at it.

Other Materials related to the Syllabus:

Not Required, But Worth Considering Later in the Semester:

Laurence, Anderson & Minzner, A Student's Guide to Estates in Land and Future Interests (3d ed. 2012), or any prior edition including:

Laurence & Minzner, A Student's Guide to Estates in Land and Future Interests (2d ed. 2001)
Laurence & Minzner, A Student's Guide to Estates in Land and Future Interests (1st ed. 1993)

You may well be able to master estates and future interests based on the material in the casebook and problems I will give you and which we will discuss in class. But you might find additional material helpful. The Laurence & Minzner (Laurence, Anderson and Minzner in the most recent edition) tracks the approach we will take in class. Buy the cheapest copy you can find; there is no advantage in getting the most recent edition.
You may well want to wait until we have started Estates and Future Interests (after the Fall Break) to decide.

Final Exam, Graded Mid-Term Exams & Practice Questions

Final Exam

The final exam will be closed book, 4 hours.

Past Exam Packet New!

Graded Mid-Term Exams

In addition to the final exam, there will be graded mid-term exams. All will be closed book. I will also make some practice exams available to help you prepare for the mid-terms, and I will provide feedback on the mid-term exams so you can learn best how to take law school exams. Near the end of the term I will provide some previous final exams to help you prepare for the final exam.

The dates and times of the mid-term exams are as follows.

Important: you must read the Ground Rules regarding attendance on exam dates, as well as attendance on class days.

Practice Questions

There will be some Practice Questions throughout the semester. Please see the Practice Questions page for links to the Practice Questions.

Course Grading

Your final grade will be determined as the result of your (1) exam grades, (2) class participation credit, if any, and (3) class attendance penalty (if any):
Exam grades: the final exam will count for 90% of the exam portion of your final grade, and together the three mid-terms, 10%. As for the three mid-terms, the first will count as one-sixth of the 10%, the second as one-third of the 10%, and the third as one-half of the 10%. (Mathematically, this means the first mid-term will count as less than 2% of the final exam grades, the second a little over 3%, and the third, 5%.)
Class participation: Class participation can raise your final grade, though not lower it. Typically if you get class participation credit, it would raise your grade by one letter grade (e.g., from a B+ to an A-) but in a few rare cases it might raise it two levels (e.g., from a B- to a B+). Note that the idea behind class participation credit is to give an alternative method of evaluation, since some people express their thoughts better orally than in writing. I make the final decision on whether to award class participation credit after classes are over and the exams are graded.
Class attendance. If you have too many absences, it may affect your final grade or your continued enrollment in the course. Please see the Ground Rules for details.
Assignments for Class

Syllabus

I may adjust the Syllabus as the semester progresses, depending on how quickly we move through the material. If I make any changes to it I will highlight what has changed.

A. The Right to Exclude
1. Jacque v. Steenberg Homes, Inc.; State v. Shack
CB 205-213
Supp. 1-2
2. Comparative Perspectives
Supp. 3-7
3. The Florida Migrant Farmworker Statute
Supp. 8-15
4. Practice Question 1 (Mandatory)
B. Relativity of Title: Tapscott v. Lessee of Cobbs
Supp. 16-22


II. Transfers of Ownership: Voluntary & Involuntary

A. Involuntary Transfers
1. Eminent Domain
CB 997-1017 (through Note 5)
Supp. 23-26, 27-28 (optional), 29-33
2. Adverse Possession
a. The Common Law
i. Introduction; Van Valkenburgh v. Lutz
CB 70-89
ii. Mannillo v. Gorski, Howard v. Kunto, and Other Issues in Adverse Possession
CB 89-103
Supp. 49
b. The Florida Adverse Possession Statute
i. General
Supp. 34-42 (through Note 2) (Florida Adverse Possession Statute & Related Materials)
Supp. 50-51 (optional)
ii. Border Strips
Supp. 42 (Note 3)-48
CB 94 (Note 3) (review)
B. Voluntary Transfers: The Sale of Land
1. Introduction
CB 553-567
2. Disclosure & Warranties
a. Caveat Emptor; The Duty to Disclose
i. Stambovsky and Johnson v. Davis
CB 581-592
Supp. 52-59; Supp. 141 (Fla. Stat. ch. 689.25)
ii. Broaddus v. Woods
Supp. 64-65; Supp. 66-78 (skim)
Supp. 79-140
Supp. 141-143 (State statutes)
Supp. 60-63 (optional)
b. The Warranty of Habitability or Quality
Supp. 144-150 (McDonald v. Mianecki & Fl. statute)
c. Florida Bar Exam Question
Supp. 151
3. Deeds
CB 595-600, 611 (Section 2)-617
Supp. 152 (Problems)
4. Mortgages
a. Introduction
CB 617-622
b. Foreclosure
CB 623-631
Supp. 153-155
5. Recording Statutes and the Chain of Title
a. Introduction; Title Searches
CB 661-667
CB 711-714, Supp. 156-164
b. Types of Recording Acts
CB 682-685, Supp. 166-168 (on Oregon's statute)
Supp. 165, Problems 1-7 (under Oregon statute, and
others listed on Supp. 165, some of which are in the casebook,
and some of which are at Supp. 169-170)
c. Recording Act Problems
Supp. 165-166 (remaining problems)
682-685 (review), CB 685-686, 611 (Estoppel by Deed)


III. Forms of Ownership and Possession

A. Concurrent Ownership
1. In General
CB 387-398, 403-405
Supp. 233 (Fla. Stat. § 689.15)
2. Marital Interests
CB 427-438
Supp. 232, 233 (Fla. Stat. §§ 689.11, 689.15)
3. Divorce
CB 437-444
B. Landlord-Tenant Law
1. The Creation and Characteristics of the Landlord-Tenant Relationship
CB 461-463, 468-471
2. The Implied Warranty of Habitability
a. Common Law
CB 533-546, 548-550
b. The Florida Statute
Supp. 171-195 (the Florida Statute)
Supp. 196-200, 201-216 (Questions on the Florida Residential Landlord Tenant Statute
C. Estates & Future Interests: Present Possessory Estates
As you read the material below, consider the Grants at Supp. 217. We will discuss them in class. Also,
for background, read CB 247-255. In addition, the chart at CB 338 has a useful overall summary.
Further, if you want extra reading for III.C., take a look at Chapter 1 of Laurence & Minzner
(or Laurence, Anderson & Minzner, depending on which edition you look at) (on The Basic Present Estates).
Note that we will not cover the fee tail.
1. The Fee Simple
CB 255-261
Supp. 232 (Fla. Stat. § 689.10)
2. The Life Estate
a. General
CB 265, 271-273, 313-316 (Note)
CB 313-316 (read these pages so you have some general familiarity
with reversions, but note that we will go back over these pages in Section III.D below)
b. White v. Brown and Baker v. Weedon
CB 266-271, 273-282
3. Defeasible Fees
a. In General
CB 283-286, CB 309-311, CB 316-317 (Notes 2 & 3)
Supp. 233-234 (Fla. Stat. § 689.18)
b. Cases
CB 286-296, Supp. 242 (note on Mahrenholz)
Supp. 243-258 (White v. Metropolitan Dade County) (optional)
c. Condemnation/Eminent Domain
CB 302-309
D. Estates & Future Interests: Future Interests
If you want extra reading for III.D, take a look at Chapters 2-5 of Laurence & Minzner
(or Laurence, Anderson & Minzner, depending on which edition you look at)
(on Future Interests Before 1536; The Family of Remainders; Present and Future
Interests After 1536; and Later Modification of the Basic Common Law).
1. Introduction; Future Interests in a Transferor
CB 313-317
2. Future Interests in a Transferee
a. Remainders
CB 319-327, 345-347; CB 347-349 (skim, but you are not responsible for
the Rule in Shelley's Case or the Doctrine of Worthier Title)
Supp. 233 (Fla. Stat. §§ 689.17, 689.175)
b. Executory Interests and Trusts
CB 327-339
Supp. 259-260 Note: Make sure you have the corrected pages.
CB 339-345 (Broadway Bank)
E. Estates & Future Interests: The Rule Against Perpetuities
1. Mechanics
As you read the material below, consider the Perpetuities Problems at Supp. 261.
We will discuss them in class.
CB 349-351; CB 356-357 (optional; you are not responsible for class gifts);
CB 357-360
Supp. 259-260 (review) Note: Make sure you have the corrected pages, Supp. 262-268
Supp. 233-234 (Fla. Stat. § 689.18) (review)
Supp. 269-270 (optional)
2. Scope and Reforms
CB 360-372, 373-379
Supp. 233 (§ 689.13); 235-238 (§ 689.225)


IV. Private Land Use Regulation

A. Easements
1. Overview
CB 761-766, 772 (Note: Licenses), 777-785
Supp. 271-274
Supp. 275-278 (optional)
2. Negative Easements, Prescriptive Easements, and Conservation Easements
CB 795-799, 829-834
3. Scope
CB 807-818 (through 5. Termination)
B. Covenants Running with the Land
1. Creation, Application, and Enforcement
a. Overview/Historical Background
CB 835-838
Supp. 271-274 (review)
b. Tulk v. Moxhay
CB 838-843
c. Neponsit
CB 843-853
2. Racially Restrictive Covenants
CB 859-865
3. Termination
CB 865-872, 227-231 (through Note 4)


V. Public Land Use Regulation

A. Origins and Constitutionality
CB 895-914
The Miami 21 Plan:

B. Nonconforming Uses
CB 915-923
C. Zoning and Individual/Group Rights Revised!
CB 960-972
CB 864-865 (Note 6) (review)